Two banners run in rotation in this single spot.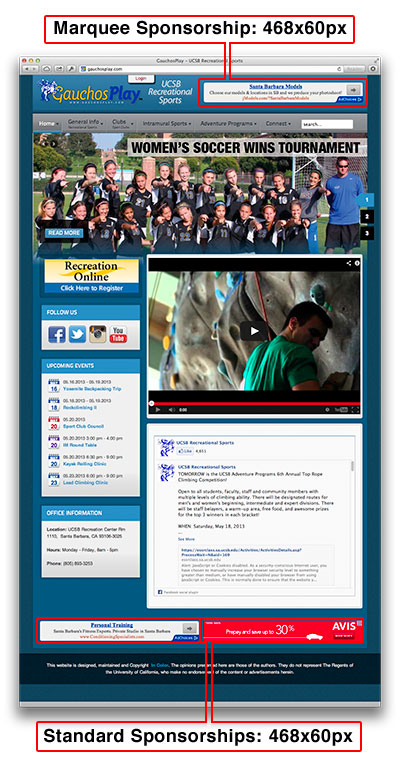 Before you choose to sponsor GauchosPlay.com, it's important to know a few things about this great opportunity to do something smart for your business and something good for the community. With well over a quarter million page views in the last twelve months, GauchosPlay.com is part of the daily lives of students, faculty, staff and anyone else connected with the UCSB Rec Sports community. This site boasts nearly a thousand unique pages of valuable content for its visitors, including hundreds of great photographs.
Right now, as you read this, your potential customers are using GauchosPlay.com to find out about scores, standings, field locations, employment opportunities, hours of operation, schedules, rosters, galleries, videos and so much more. This information is critical to the Rec Sports community and updated regularly to give users dynamic information critical to their participation in UCSB Rec Sports.
More good news. When you sponsor GauchosPlay.com, the cost is low and the value is high. That's right, only $49 per month or $499 per year for a Standard sponsorship (468x60 size banner ad) and $99 per month or $999 per year for a Marquee sponsorship (468x60) at the top of the page. Each banner runs in its own spot in rotation with one other banner, meaning your banner will appear, on average, on every other page view.
How in the heck do we manage to charge so little for a sponsorship? We do it by eliminating the paper work and the middle man. The sign up process is really easy, and you can change your banner up to once a month. You'll use your credit card to make the purchase and billing takes place monthly or annually depending on which plan you choose. You can manage your subscription easily by clicking the Manage My Subscription button next to the PayPal logo below.
468x60 pixel Marquee Sponsorship Banner
(means you're at the top of your game and at the top of GauchosPlay)
This banner appears conspicuously on the site's header, right next to the site logo. Your banner will run in rotation with one other banner, meaning it will appear, on average, on every other page view. Your selection of the Marquee Sponsorship means you get this site's premiere location. In fact, the opportunity is such a great value, we recommend making a one year's commitment, thereby ensuring you'll have the space even when another sponsor wants to take your place.*
468x60 pixel Standard Sponsorship Banner
(means you know a great value when you see it)
Take this opportunity and run, fast, just like our Gauchos who play Rec Sports at UCSB... reason being that these inexpensive positions sell out, fast. There are two of these spots on the site, and each banner shows up on each and every page view.
You're there to be seen by your customers who will not only know you care about your community, but also that you're a good business person who wants to communicate your value wisely, efficiently and effectively. They will enjoy clicking through to your web site and getting to know your business online. Once again, it's a good idea to guarantee your spot for entire year so no one else can lay claim to it after you've made your purchase.*
A Smart Deed is A Good Deed
Remember, when you sponsor GauchosPlay.com, you not only do something smart for your business, you also help the UCSB Rec Sports program maintain and build on a web site that's really important to their day to day operations. In these times of shrinking budgets, it's the business community which steps in so often to save the day, people like you, who appreciate what UCSB Rec Sports does for students, faculty and staff.
The Super Easy Way to Sponsor (just as we promised in one of those paragraphs above).
Click on one of the SUBSCRIBE buttons to the right to get started. After you check out, you'll feel great while you get instructions on how to prepare and send us your banner. If you don't have a banner, we'll build one for you for only $99.
Cancellation
Not that you'd ever want to, but it's worth pointing out that you can cancel your subscription at anytime. Upon cancellation, your banner will continue to run long enough to fulfill your current paid term. To cancel or update your credit card information, click the Manage My Subscription button to the right.
* NOTE: Conditions subject to change with advance notice. Your conditions will never change during the term of your paid subscription period, so choose Annual to lock in these low prices.