TheArlingtonTheatre.com update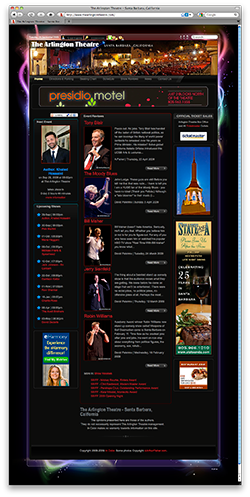 In Color recently updated the website for Santa Barbara's historic venue, The Arlington Theatre. thearlingtontheatre.com features a prominent section for show reviews and upcoming shows. The new design is programmed with a cutting-edge Content Management System (CMS) which allows for easy client-based updates interspersed with advertisements by local community sponsors.

"We are quite proud of this new design. By the end of the year, we hope to have added a complete section for the theatre's intriguing and sometimes crazy history," said Art Fisher, site designer.

If you are interested in sponsoring this site, please contact Tom Widroe.