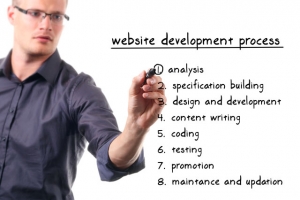 In Color has been producing provocative websites since the late 1990's. In 2004, we made the jump into Content Management Systems, when we designed our then version of incolor.net in the CMS pioneering Mambo platform. After the many of Mambo's developers defected to start the Joomla! platform, In Color followed them to this now rich and mature system (running this site). Though we still develop flat HTML websites, the Joomla! CMS and K2 CCK have become our platforms of choice. We also have experience with MediaWiki, WordPress and a few eCommerce platforms.
We have a deep understanding of Graphic User Interfaces and ergonomic usability. Several years ago principal, Mr. Fisher, took a week-long class in CSS. Cascading Style Sheets are the core of great visual design in modern websites. Today, smart CSS programming is the single biggest element which sets the greatly designed websites apart from the just average ones. Our designs do away with the old "built-on-tables," bloated-code methods used in the past.
Even though we pride ourselves on our graphic designs, we fully test our productions and make appropriate modifications to ensure your website looks great on Windows and Macintosh. We also know how to make a separate version of your site which is optimized for mobile devices, whether they are Flash capable or not.