New Brophy Bros. Website is Freshest Thing in Town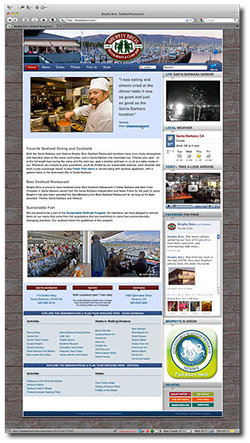 One of the highest grossing restaurants in the state is our local, beloved fresh seafood restaurant/bar, Brophy Bros. This Boston-style clam bar is located a top our beautiful harbor here in Santa Barbara and has one of the most spectacular views one can find while he sips Bloody Mary's and slurps down tasty clam chowder.
Through our sister company, Vox Media Studios, In Color is happy to announce the freshest thing in town: a complete makeover of brophybros.com. The new website garners a couple thousands page views per week and is helpful to locals as well as out-of-towners. The live harbor webcam will let you know when to hurry on down, while dozens of links populate the Explore Our Neighborhood area, providing helpful information for those needing accommodations or other things to do when they come visit town (either the Santa Barbara or Ventura locations).