New Epson 9800 Up and Running!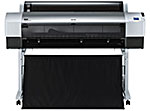 Our new
Epson Stylus Pro 9800 Printer
is now up and running. As we generate custom ICC Color Profiles for our particular unit, paper and ink combination, we are starting to output images which are absolutely stunning!
The
Stylus Pro 9800
is Epson's latest release of Fine Art printing machines. Capable of output up to 44 inches wide, the 9800 is the most versatile printer in Epson's line.
Critics have acclaimed this machine the highest-quality fine art printer available.


The 9800 makes the following improvements over the previous flagship model, the 9600: higher-resolution output, up to a 50% improved print longevity, wider color gamut, even smoother gradations in fine color transitions, especially in black and white prints. The 9800 utilizes the new Ultrachrome K3 inset which offers both a larger color gamut and a third gray cartridge. This ink set now contains Black, Light Black and Light Light Black cartridges, which coupled together with the Light Cyan and Light Magenta produce some of the most amazing black and white prints available.
Ask to see some samples, or purchase an image from the In Color Store, as all our prints are now made with the new 9800.
The next piece of fine art equipment we'll be adding to our arsenal is a liquid laminate coater. This machine will be used primarily for putting a layer of a varnish-like coating on printed on canvas, protecting the surface from handling and the elements. Canvas printed on our Epson 9800 and coated with an archival coating will last in excess of 150 years in standard gallery conditions!