General Racing Ltd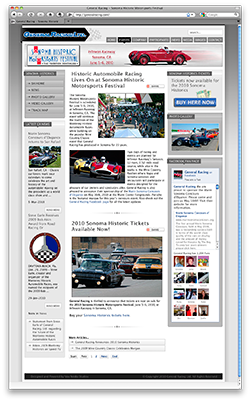 Through our sister company, Vox Media, In Color is proud to announce the "go live" of a new website for General Racing, LTD. This site was sort of rushed in anticipation of increased traffic as a result of this week's Rolex Monterey Historic Automobile Races. Vox Partner, Duncan Westley, and General Racing director, Doug Earle, agreed that General Racing needed a more modern web presence in time for this week's monumental races, which are expected to bring 40 thousand or more visitors.
In any case, this site is an example of what Vox Media can produce in just over a week.
After this week's races, we will focus a bit more on GeneralRacing.com, adding more comprehensive information about the company and the events it manages.
UPDATE: at the request of company management, we have taken down their Rolex Monterey Historic Automobile Races website and folded it into this General Racing site. This site is now much more comprehensive.