Rolex Monterey Historic Automobile Races Website: Now Live!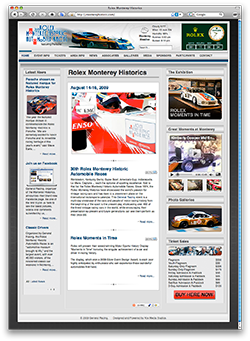 Through our sister company Vox Media Studios, In Color is proud to announce the offical Go Live of a completely updated website for General Racing's annual event, the Rolex Monterey Historics Automobile Races, www.montereyhistroic.com. Currently in its 36th year, this event brings a worldwide fan base to decend on the Laguna Seca Raceway. If you are a race car fanatic, you will absolutely love this event which incorporates dozens of different races, each featuring historic cars from noteworthy eras.
Just wanted to say a huge "Thank you" for getting the web site completed and launched within time and budget. I truly appreciate all the effort put forth by both you [Duncan] and Art to get this accomplished - especially within our limited timeframe. -- Doug Earle
Soon we will be begin construction of completely new sites for General Racing and their other events.