KerneErickson.com Now Live!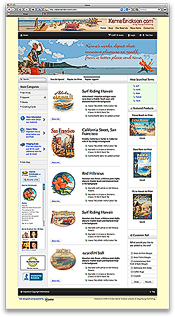 In Color is proud to announce our new ECommerce website, KerneErickson.com. This online store utilizes some of the latest and greatest of a top notch CMS integrated with a state-of-the-art, open source shopping cart system. No licensing fees necessary.
Coupled with the release of the new website is a Facebook fan page. We've also incorporated the fan page into KerneErickson.com.
Kerne Erickson is a world renown painter with a retro style that brings us back to what feels like a better place and time. His store will sell all kinds of apparel, fine art prints, books, cards, and other branded merchandise.