LabTracker.com Gets Remodeled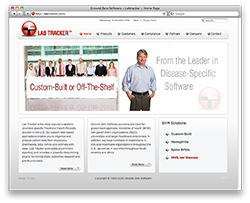 When In Color designed LabTracker..com for Ground Zero Software about four years ago, it was one of our first high-profile websites built around a Content Management System (CMS). Since that time, CMS technology has come a long way, maturing to the point of mainstream acceptance in the professional website deployment sector.
Today we went live with the first major refresh of LabTracker.com. There was initially a major rush to update the site, yet we still decided to start from scratch and re-build the new site from the ground up. Under the direction of John Hollis, technical writer for Ground Zero Software, we kicked this entire site out in the course of a very long weekend. This is a testament to the fact that not only has CMS technology has become predictable and mature, but also that we at In Color are very well versed and efficient in working in this environment. Needless to say that GZS's CEO was very happy.
Of course, we don't recommend that you deploy an entire website on this type of schedule. But if you find yourself in a time-sensitive bind, you can count on In Color to keep the ball moving forward  on your design project. We specialize in getting it done right the first time.