Refer a Friend Posters Complete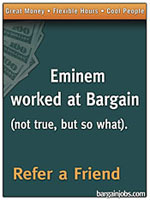 In Color has successfully installed 15 double-sided posters and three single-sided posters at Bargain Network to inform employees of a new employment referral program called Refer a Friend. The program was conceived by Tom Widroe, Manager of Operations at Bargain Network, and it directs existing employees to refer friends to the BargainJobs.com website to win valuable prizes when their friends become employed at Bargain Network.

"As one walks down the main aisle-way, he is greeted by the 18"x24" signs, consecutively hanging a dozen feet apart. Each sign has both a unique message and a consistent message and is designed to inform or entertain. In Color did a very professional job of design, printing and installation. I've already gotten plenty of good comments."

In order to communicate a consistent message, the signs were designed after the Refer A Friend cards (business card size) which were created by Tom Mattson at ISD Works. All in all, the job was a great success.